The nexus between Sports and

Business.

Marketing.

Technology.

Fans.

Life.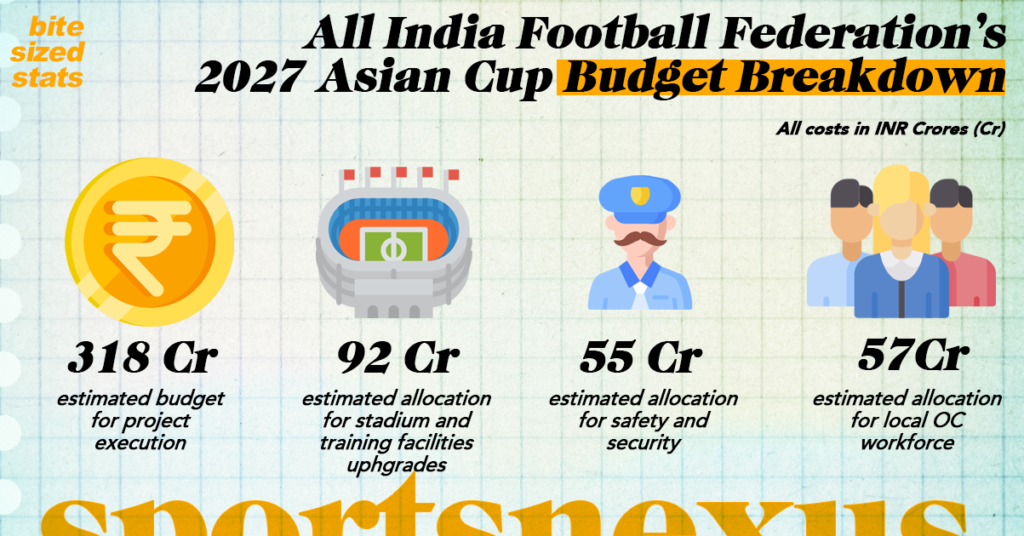 After successfully hosting the FIFA U17 Men's World Cup and winning the bid to host the U17 Women's World cup the All India Football Federation (AIFF) has submitted a bid to host the 2027 Asian Cup.
This is AIFF's declaration of showing intent not only to host top class football event but also a tangible way to show the improvement and development of football infrastructure on the back of the Indian Super League (ISL).
What does the bid look like?
There is limited information out in the open about the bid document from which we have learnt that the bid suggests that 11 cities will host the matches and they will be played 12 stadiums. It is believed that Navi Mumbai will stage matches in two stadiums. The DY Patil stadium which has hosted ISL matches for Mumbai City FC will be hosting matches and a brand new stadium in the Panvel – Kharghar vicinity will be the second stadium in Navi Mumbai.
From a budget perspective the Indian bid is apparently believed to be in the range of INR 318 Crores (US$44M).
Who is India up against in the bid?
Three football federations have bid for the rights to host the 2027 Asian Cup. Qatar and Saudi Arabia have bid along with India for the coveted rights.
It is reported that Qatar's bid is worth US$137M whereas details of Saudi Arabia's bid is not yet disclosed.
India's bid being the lowest is a very clever bid in terms of allocation with a chunk of the bid being allocated for infrastructure upgrades. This is a clear indication that there will be an expansion in the national league and grass root development of football and if plans fall in place most of the stadiums will be utilised before the 2027 event.
However, Qatar is in a very strong position considering they will have hosted the grandest showdown in world football – FIFA World Cup in 2022 and their infrastructure could be vital in the bid (besides the higher bid cost).
How will the budget be allocated?
The budget allocation is broken down in the infographic above but one stand out stat is the stadium and training facilities upgrade and in particular the Balewadi stadium, Pune and GMC Balyogi stadium, Hyderabad, a combined total of INR 67 Crores.
Will AIFF make money and will it be a pocket friendly event?
The bid document also suggests that hosting the event will not be a huge loss and besides sponsorships, the AIFF is estimating a minimum of INR 76 Crore income generated from ticket sales and at the same time AIFF will make it easy for fans to watch matches with tickets priced as less as INR 500 (£6-7).